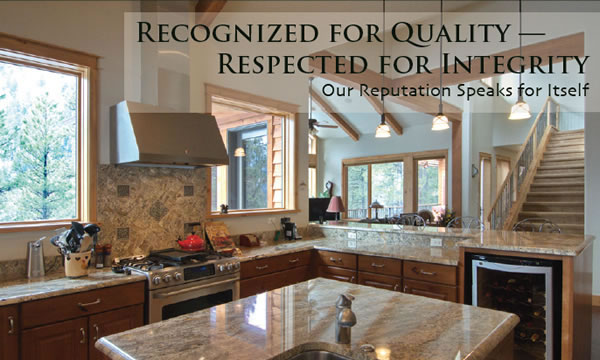 For many people the process of acquiring land and having a house designed and then built poses a daunting challenge. Much is at stake for them and often times they are attempting to navigate this process while living in a distant Colorado town or out of state.
This process often requires that the owner find and hire individual specialists such as an architect, engineer, a contractor, landscapers, and possibly other specialists such as an interior designer, etc. Not only can this become a time-consuming effort, but also there is no guarantee that this assembled group will be compatible and work well as a team to provide the owners with their desired outcome. The good news is that it doesn't have to be an arduous process.
Years ago, most buildings were designed and built by a person known as a "Master Builder." This person would not only design the building, but would be responsible to build it as well. The owner needed only to communicate with this individual and not with a string of individuals. Since the designer and the builder were the same person, there was good project continuity and no competing agendas between designer and builder.
This tradition lives on with Galbraith Design/Builders, Inc. here in Durango. In Durango since 1990, we have established our company as a design/build leader with more than 55 local custom homes to our credit.
Our companies, Galbraith Design, Inc. and Galbraith Builders, Inc. are known for building well executed homes with distinctive design and special details. Quality and value is our mission, not an advertising cliché. To have your designer involved on a daily basis throughout the construction process is a major advantage. This continuity insures that the specifics of the design are given careful attention.
As a design / build company, we have the advantage of designing a house to fit the budget of our clients because we will also be performing the construction work. The design and construction costs need to correlate properly to serve the clients needs. A grand design scheme will not do the client justice if this exceeds their budget constraints.
In the case of a "Green Built Home", it is imperative that the designer and the builder are both aware of what is involved in building a truly "green" home. There is additional knowledge required to know how to achieve this, and careful planning and coordination of the work needs to be done. Galbraith Builders / Galbraith Design is a leader in sustainable building practices. Mark Galbraith is a LEED AP (accredited professional), and completed the design and construction of the very first LEED home in Durango. This home achieved the LEED Platinum certified rating, the highest that can be attained. At the time this was one of only 8 LEED Certified Platinum homes in the State of Colorado.
From land pre-purchase evaluation, through design and completed construction, we take pride in our ability to offer very comprehensive services in an effective, direct manner. Steve Kiely, a recent client stated, "although I have had several custom homes built in the past, this is the first time I have chosen design/build. I must say that I found this process much easier and effective than with previous homes. It is the first time I received everything I wished for, and even more. I could not be more satisfied with the results."
Although there are many compelling reasons to choose the design/build alternative, one must show due diligence in selecting a design / builder. Look carefully at a company's track record, scrutinize their work and talk to their clients. Be watchful for people claiming to be design / builders who don't truly have this capability. Ask who is performing the design work? What are their qualifications? Ask to see examples of their work. Ask around the community to check on their reputation!
There are companies out there that put most of their efforts into promoting themselves rather than performing the work in the best interests of their client. One local company claims to be "the only true design-builder in Durango". Not only is this blatantly dishonest, but this company is hiring others to do their design work, not possessing the abilities to produce their own in-house design.